Skip over navigation
The official government website for the Town of Speedway, Indiana
Education, Progress & Industry
Start Content
Coronavirus (COVID-19) FAQ
Modified June 15, 2020
June 15th starts the newest stage of reopening for Marion County. We have now entered "Stage 4" of Gov. Holcomb's plan.
Countywide Restrictions
The June 19 move to Phase 4 includes the following changes:
Bars and nightclubs may reopen at 50% capacity, adhering to social distance guidelines.
Cultural, entertainment, and tourism sites may open at 50% capacity. This includes museums, zoos, aquariums, etc.
Live music venues, movie theaters, bowling alleys, and similar facilities may reopen at 50% capacity, adhering to social distancing guidelines.
Public access to government buildings is determined by entity. Masks are required in the City County Building and are strongly encouraged in other facilities.
Professional office building employees may resume work at full capacity, with special dispensation for at-risk employees.
Houses of worship can accommodate indoor service at 75% capacity, provided congregants maintain six feet of distance and wear a face covering to decrease the spread of the virus.
Restaurants may serve at 75% total capacity.
Shopping malls and retail can increase to 100% of capacity with continued social distancing.
Campgrounds may open but on-site playground facilities must remain closed.
Public gatherings are capped at 250 people.
Salons, spas, and tattoo parlors may continue to operate by appointment only, with mandatory face coverings for employees and patrons. Playgrounds must remain closed.
Town Hall remains pen by appointment only:
Is the Speedway Town Hall closed?
The Speedway Town Hall has also reopened to the public by appointment only. Per state guidelines, the office at 1450 N. Lynhurst Drive will be open on a limited basis and require masks be worn while in the building.
How do I pay my water bill while social distancing?
Utility bills can be dropped in the blue deposit box in the parking lot behind Speedway Town Hall
Call by phone during business hours at 317-246-4111 to pay or make changes to accounts
Pay online (click here for further instructions)
Can I still get permits during this time?
The Town of Speedway also understands that work must continue on projects and homes, therefore those seeking a permit should call or email Sarah Adams at 317-246-4111 or sadams@speedwayin.gov.
Is the Speedway Public Library currently open?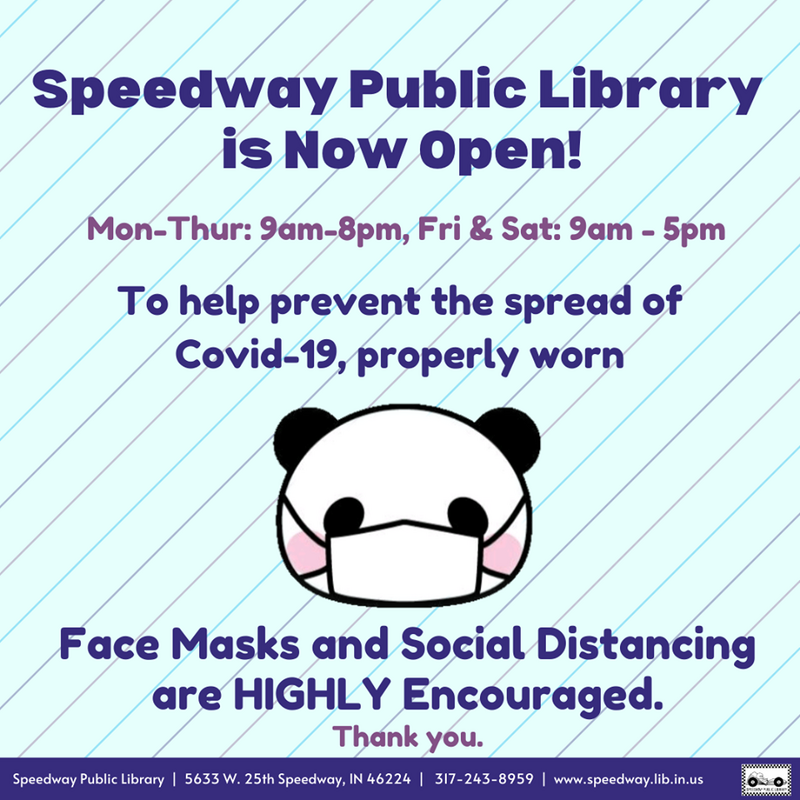 The library is resuming normal operations as of Tuesday, June 16th at 9am. Our Summer hours will be the same as our usual hours for this year.
Please be aware that we have temporarily removed some furniture to promote social distancing. We have also limited the number of available patron and guest computers and the available time allotted has been reduced. At this time, toys and children's computers will not be available.
Curbside will continue through the summer for those who wish to use it due to Covid-19 concerns. Please watch this video for more information on our curbside service:
Will there be Town Council or board and commission meetings?
Town Council meetings have returned to their normal, in-person schedule.
Boards and commissions are allowed to meet now. So keep an eye on our website, sign up for email alerts, and follow our Facebook page for updates.
Are Speedway Parks Open?
We are now are able to open our restrooms, tennis courts, ball fields, horseshoe pits, and volleyball pits. All playgrounds remain closed at this time.
We ask that you please help us keep the parks open by following the guidelines, washing hands often, maintain 6-foot distance when possible, and stay at home when you're sick.
Although larger gatherings of people are allowed according to the order, we ask that you be respectful of other parkgoers and make sure others can use the park safely around your group. Also, clean up any and all trash and wipe down surfaces before leaving to help protect our staff.
How do I get more information about the Coronavirus (COVID-19)?
General questions from the public or healthcare provider inquiries about COVID-19 may be directed to the ISDH COVID-19 Call Center at the toll-free number 877-826-0011 (available 24/7) or email epiresource@isdh.in.gov.
How do I contact someone at the Town of Speedway?
The following phone numbers should be used for calling specific departments, and "911" should be used for emergency purposes only:
Town Hall 317-246-4111
Police Department Administration/Non-Emergency 317-246-4300
Fire Department Administration/Non-Emergency 317-246-4300
Parks Department 317-246-4125 Library 317-243-8959
Public Schools Administration 317-244-0236
I am experiencing financial hardship, how can I get help with my utilities?
At this time, many utility companies are offering to make arrangements for payments and discontinuing their disconnect of services for the time being. Call your utility management company for details. Speedway Water customers who need to make arrangements for paying their water bills should contact Town Hall at 317-246-4111.
Is there a local food pantry open?
The St. Chris Food Pantry is open to the public and serves people from zip codes 46123, 46214, 46222, 46224, 46231, 46234, & 46241. They are open Tuesday and Friday mornings from 9 am - 10:15. Clients can come twice a month and need only provide proof of ID and address.
Are there any resources available for childcare?
Every community has a child care resource and referral agency to connect parents with local child care options and provide referrals for support. Families can find their local Child Care Resource and Referral by calling 800-299-1627 or by consulting this map.
I am currently out of work due to COVID-19. What resources are available?
First, file for unemployment insurance through the Indiana Department of Workforce Development. That can be accessed here. For more information on COVID-19 Worker Support, click here.

In response to an increase of inquiries regarding the coronavirus disease (COVID-19), the Indiana Dept. of Labor hopes to provide Hoosier employers and workers with information to keep themselves healthy and informed. Click here for information and FAQ about working during the pandemic.

The Department of Workforce Development (DWD) has suspended rules requiring certain unemployment insurance claimants to physically appear at a Work One location to engage in reemployment services for the next four weeks. This will ensure that individuals who may be symptomatic do not have to physically appear to continue their unemployment insurance eligibility

The Indiana Department of Workforce Development (DWD) has 12 Workforce Regions throughout the state. At least one WorkOne is open in each region, except Marion County. DWD is working with that local WorkOne to ensure unemployment insurance claimants who need access to a computer have that access.

The DWD office in the Indiana Government Center South in Marion County is open from 8 a.m. – 4:30 p.m. and has computers available for use.

The DWD will also request flexibility under federal and state law to expand eligibility for claimants and ease burdens on employers.

Here is a link to FAQ on Unemployment Insurance: https://www.in.gov/dwd/files/Indiana_Unemployment_FAQ.pdf

Call volumes are extremely high, so you are encouraged use visit Unemployment.IN.gov first for guidance. If you don't find the information you're seeking on the website, reach the Indiana Department of Workforce Development unemployment contact center via the following methods:
How can I volunteer to help?
There are a few ways you can help while staying safe:
Check-in on your elderly and at-risk neighbors. Consider leaving a note on their door or making a phone call to see if they need help picking up groceries, medications, or any other errands. Please remember to follow the CDC's guidelines for social distancing.

Hoosiers who can donate blood are encouraged to visit local blood centers. Blood supplies are low. Please follow the guidance at www.redcross.org

Consider "social distancing" as "physical distancing" instead. Make sure you're reaching out to friends, family, and coworkers who may be feeling alone and possibly scared. Phone calls, text messages, emails, letters, etc. are all encouraged. Even taking a walk around the neighborhood and waving hello could brighten someone's day! Stay connected while staying apart.
Take Care of Yourself
There is a lot of misinformation and incorrect information on the internet. Please refer to primary sources when looking for information about the Coronavirus (COVID-19). Here are a few that might be helpful:
If you are sick with COVID-19 or suspect you are infected with the virus:
Stay home unless you need to seek medical care.

Clean your home following the CDC's guidelines

Avoid public areas and public transportation

Stay away from others as much as possible, especially people who are the most at risk such as older adults with multiple medical problems and those with a weakened immune system

Don't shake hands

Seek prompt medical attention if your illness is worsening such as difficulty breathing and call your doctor or healthcare facility before you seek care.

Individuals over 60 years of age or those with a known underlying health issue such as cardiovascular disease, diabetes or chronic respiratory disease should limit their public exposure. Whenever possible, friends and family should arrange to provide food and other essential items.

If you think you may have COVID-19

Call your doctor

Call State Health Dept Line 317-233-7125

Also you may call COVID-19 Triage Line 317-621-5500